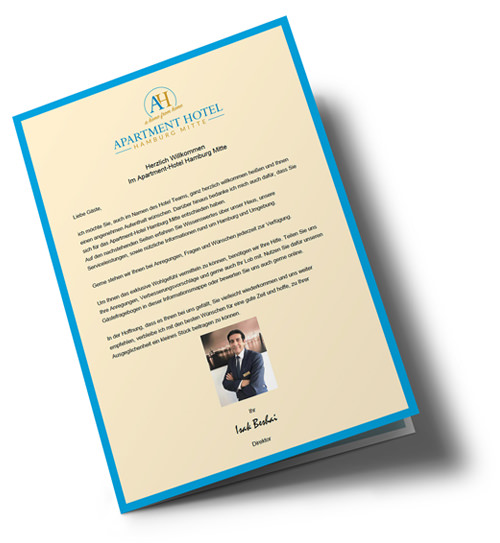 Please view or download
our Info Pamphlet here:
Data Protection Statement of Hotelbetriebsgesellschaft Spitze GmbH & Co. KG ( Apartment Hotel Hamburg )

We appreciate you visiting our websites and we thank you for your interest in our hotel. The protection of personal data is a very important issue for us. Therefore we conduct our business in accordance with the applicable German legislation concerning the protection of personal data and data security. Hereinafter you can see what kind of information we collect, how we handle the data submitted by you and to whom the data can possible be made available to. Our guidelines for the protection of your personal data, when you access our website, are in compliance with the Tele Media Act (Telemediengesetz, TMG) of the Federal Republic of Germany. 
Personal data – defined according to § 3 (1) of the BDSG (Federal Data Protection Act) as
"Particulars relating to personal or factual circumstances of a certain or
 determinable natural person (the person concerned)" -
will be collected during your visit on our website  only to such an extent which is technically necessary.
Collection and processing of personal data
Personal data is inventory data, for instance your name, address, bank account or ID card number, your phone number or your Email address. We only collect, process, or use your personal data, when you voluntarily make it available to us and the transmission of data is legal or you have given your consent. This generally occurs when you enter into a business relationship with us or make an inquiry to us. The data you render to us when you complete an online reservation or booking via the internet will of course be transmitted in encrypted form.
Designated purpose of use, processing and dissemination of collected data

Personal data you provide to us will be used solely for the communicated or agreed purpose, which usually means the completion of a contract with you, or a reply to your inquiry.
If you make use of our services, usually the data will be collected that we need to render these services. If we ask you for additional data, it is a matter of voluntary information. The processing of personal data takes place exclusively to carry out services requested and to safeguard our justified business interests.
Is personal data provided to third parties?

Your data will under no circumstances be sold or made available to third parties, unless the latter is required in order to complete a contract with you, or to provide a service for you. Transmission of personal data to authorities or state institutions, which have the right to obtain information, will only be effected if the transmission is subject to the statutory obligation to provide information, or in the case of a judicial decision. In such cases the data to be provided is in principle limited to the minimum required level.
Data security

The company Hotelbetriebsgesellschaft Spitze GmbH & Co. KG takes necessary technical and organizational security measures in order to protect your personal data administered by us against unintended or illegal deletion, manipulation, loss, unlawful dissemination or unauthorized access.       

Links to other websites

The websites of our hotel, Hotelbetriebsgesellschaft Spitze GmbH & Co. KG, contain links to other websites. Owners of these third-party websites are responsible for their data protection policies and contents of their sites. We recommend that you find out about data protection statements placed on the websites of the third parties.
Child and youth protection
Children and young persons with restricted legal capacity are in principle not allowed without the consent of the parents or a supervisor to communicate any personal data in our websites. The company Hotelbetriebsgesellschaft Spitze GmbH & Co. KG shall not collect, use under any circumstances or disclose illegally the data gained knowingly from children or from young persons with restricted legal capacity to third parties.
Video surveillance
At the locations of the hotels video surveillance is conducted solely for the purpose of collecting evidence in the case of vandalism, housebreaking, assault or other criminal offenses. There are appropriate warnings indicating the presence and the operation of the video cameras.
Cookies
A cookie is a small text data file, which a webserver sends to your internet browser and which is placed on the hard disk of your computer. No other personal data of the user except the IP address will be stored. These pieces of information help the system to recognize you during your next visit on our websites. They also make the navigation easier for you. Each time our website is visited our webservers store automatically general information in anonymous form. This information is used for marketing purposes and for optimization of our activities. This information contains by default the type of the browser, the operating system used, the domain name of your internet service provider, the IP address, which your internet service provider has assigned to you, the website from which you pay the visit to our website, all the web pages, which you visit on our websites, as well as the date and the duration of your internet visit. These pieces of information exclude strictly any further implications of your person. Your personal data will be stored only when you give it to us yourself in the context of registering yourself in our system, participating in a survey or completing a contract with us.
The data will not be used to identify the visitor of the website and the data are not combined with the bearer of the pseudonym.You have the right to object to the storage of data with future effect at any time.
etracker
On these websites the technologies developed by the company etracker GmbH (www.etracker.com) are used to collect and store data for marketing and optimization purposes. It is possible to draw up usage profiles under a pseudonym out of these pieces of information. For this purpose also cookies can be used. The cookies are small text data files, which are stored locally in the cache of the internet browser of the website visitor. The cookies enable the recognition of the internet browser. The data collected using the etracker technologies will not without a separately granted consent of the person concerned be used to identify the visitor of the website and the data are not combined with the bearer of the pseudonym. You have the right to object to the collection and storage of data with future effect at any time.
Data protection statement concerning the use of Google Analytics

These websites use Google Analytics, which is one of the website analyzing services of the Google Inc. ("Google"). Google Analytics use the so called "Cookies".
Only in exceptional cases the complete IP address will be transmitted to the server of Google to the USA, where it then will be shortened. Google will use the information upon the request of the owner of this website in order to evaluate your use of the website, in order to compile reports of the website activities and in order to provide to the website owner other services related to the use of the website and internet. The IP address of your browser transmitted by the Google Analytics will not be combined with any other data of Google.
You can deactivate the application of cookies by adjusting the appropriate settings of your software browser. However, we point out that you may not be able to use all features of this website to the full extent in that case. Further, you can stop the collection of the data generated by the cookie, control the data about your use of our website (including your IP-address) and prevent Google processing the data by downloading the following link and installing the programme "opt-out browser add-on": http://tools.google.com/dlpage/gaoptout?hl=de. 
Use of Facebook social plug-ins
Our websites use social plug-ins of the social network facebook.com that is operated by Facebook Inc., 1601 S. California Ave, Palo Alto, CA 94304, USA. The plug-ins are indicated by the Facebook logo or by the phrase "Facebook social plug-in".
When you call up a website that is part of our internet presence and that contains such a plug-in, your browser establishes a direct connection with the servers of Facebook. The contents of the plug-ins are transmitted directly from Facebook to your browser and then used to incorporate them into the website. Through the integration of the plug-ins Facebook receives information that you have called up the corresponding page of our website on the Internet. If you are logged into Facebook, it can assign the visit to your Facebook account. If you interact with the plug-ins, e.g. if you use the button "like" or leave a comment, the corresponding information will be transferred from your browser directly to Facebook and stored there. The purpose and extent of data collection, the further processing and use of data by Facebook, as well as your rights in this regard and the possible settings by which you can protect your privacy, are to be found in data protection guidelines of Facebook. If you do not want Facebook to collect information about you via our website, you must log out of Facebook before visiting our websites on the internet.
Use of Google Maps

Our websites use Google Maps for presentation of maps and for creation of driving directions. Google Maps is operated by Google Inc., 1600 Amphitheatre Parkway, Mountain View, CA 94043, USA. By using this website you declare that you agree that Google, its representative, or any third-party, will record, process and use the data which is automatically collected or which you yourself have entered. The terms of use for Google Maps can be read under Google Maps/Terms of Service.
Declaration of consent
By using our websites and the offers contained in them you declare that you agree with the fact that we store the personal data you have voluntarily transmitted to us and further that we process and use the data in compliance with this data protection statement.
Public index of procedures of Hotelbetriebsgesellschaft Spitze GmbH & Co. KG
Section 4 g of the German Federal Data Protection Act (Bundesdatenschutzgesetz, BDSG) stipulates that the data protection officer shall make the following information under § 4e available to anyone in an appropriate manner. We fulfil this statutory obligation right away here and hence refrain from answering your individual inquiries.
Name of the responsible office:
Hotelbetriebsgesellschaft Spitze GmbH & Co. KG

Managing director (CEO): 
W.-W. Spitze
A. Spitze
C. Weinbacher

Address of the responsible office:
Borstelmannsweg 133
20537 Hamburg
Tel.: 040 / 21 11 50
Fax:  040 / 21 70 98
Mail: This email address is being protected from spambots. You need JavaScript enabled to view it.
Categories of recipients to whom data can be communicated
Hotels, inns, guesthouses, pensions and other accommodation establishments may collect personal data of their guests and store the data in automated procedures as far as this is required as part of the accommodation contract. Usually also accounting data of meals and drinks, phone calls made from room phone and/or other specific services of the hotel are considered as recordable data. Pursuant to the regulations of the registration law hotels and other accommodation establishments are obliged to ask from the customers and the members of their family information about place of residence, birthday and citizenship.  
Furthermore, data can be communicated to following recipients:
Public bodies, which obtain the data by law (e.g. social security institutions)

Internal departments, which are involved in the execution and completion of the business processes (e.g. personnel management, personal control, accounting, marketing, distribution, IT organization and central reservation service (customer service center)

External contractors (service companies) pursuant to § 11 of the BDSG (German Federal Data Protection Act)

Other external bodies (e.g. credit institutions, broker agencies as regards mediation, companies belonging to the corporate group – if the person concerned has announced his written consent, or the transmission of data is allowed by virtue of predominantly legitimate interest) and partner companies when they carry out commissions of customers.
Right to Information
Pursuant to the § 34 of the BDSG (German Federal Data Protection Act) you have an unlimited right to get information free of charge about your data stored by us. In accordance with the § 35 of the BDSG, you have the right to erase or block impermissible data and to correct inaccurate data. At the request we will inform you as soon as possible in writing adhering to the applicable law, whether we have stored and which data we have stored about you. If we have stored incorrect data about you despite our efforts to maintain the data accurate and updated, we will of course amend the data at your request.     
Standard deadlines for retention of data/ erasure of data
The data will be erased after the legal, statutory or contractual retention periods have expired. Such data, which are not subject to retention requirements, will be deleted after the earmarked purpose ceases to apply.

Changes in the privacy policy 

We reserve the right to amend our data protection practices and this data protection statement in order to adjust the aforesaid to reflect possible changes in relevant laws or regulations, or to meet your needs better. Possible changes in our data protection practices will correspondingly be published on this webpage. Please inform yourself about the current date of our data protection statement.
Name and address of the data protection commissioner
SHIELD GmbH
Martin Vogel
Perleberger Str. 10b
25421 Pinneberg
Phone: +49 4101 77 44 70
Email: This email address is being protected from spambots. You need JavaScript enabled to view it.

Hamburg, Januar 2015
Apartment-Hotel Hamburg Mitte
Borstelmannsweg 133
20537 Hamburg
Telefon 040-211150 or
0700-S-C-H-L-A-F-E-N
Fax 040-217098
E-mail: This email address is being protected from spambots. You need JavaScript enabled to view it.This email address is being protected from spambots. You need JavaScript enabled to view it.
Hotelbetriebsgesellschaft Spitze GmbH & Co. KG
Managing Director: W.- W. Spitze, A. Spitze and C. Weinbacher
Registration number: HRA 78001
Tax number: 22 510 13546
HSH Nordbank AG - Konto-Nr. 164251010 - BLZ 210 500 00
BIC/SWIFT- Code HSHNDEHH
IBAN: DE 87210500000164251010
USt.-IDNr.: DE 1188747144
Responsible for site content: Jürgen Gieseke & Isak Beshai

Concept, Design and Development:
Navega Bem - Web Design Lda.
Rua Quinta do Leme 119
Funchal, 9020-223
Madeira - Portugal
NIPC: 507710487
Project Director: Lisete Gonçalves
Telephone: +351 291 761 478
Telephone: +351 291 764 506
Mobile: +351 969 458 999
www.navegabem.com
Photos:
We appreciate your reservation with Apartment Hotel Hamburg Mitte!